Reels continues to be the #1 way to reach new fans/followers on Instagram. Here are some low lift, high impact quick tips to get you into the Reels game!
What are Reels?

Instagram Reels are short, entertaining videos that can be up to 60 seconds long and are created using the Reels feature within the Instagram app. They are similar to TikTok videos, in that they allow users to record and edit short clips set to music, add special effects and filters, and share them with their followers or with the wider Instagram community. How to record a Reel.
Where are they found?

Reels can be found in the Explore tab of the Instagram app, where users can browse through a curated selection of Reels videos or search for specific topics, hashtags or creators. They can also be shared on the user's Instagram feed or Story, as well as on the Reels section of their profile.
BEST PRACTICE

Keep it short and sweet: Instagram Reels should be 15 to 60 seconds long. Keep your content concise and to the point. This will help keep your viewers engaged and more likely to watch your entire Reel.
Use trending music and hashtags: Keep up with the latest music and hashtag trends to stay relevant and increase your chances of being discovered by new audiences.
Grab attention in the first few seconds: Use eye-catching visuals, text overlays, or a hook to grab your viewers attention within the first few seconds of your Reel.
Add text overlays and captions: Use text overlays or captions to add context, humour, or calls-to-action to your Reels. This can help increase engagement and encourage your viewers to take action.
Experiment with different formats: Try out different formats such as stop-motion, time-lapse, or jump cuts to add visual interest to your Reels.
Showcase your personality: Reels are a great way to showcase your personality and show a behind-the-scenes look at your life or creative process. Don't be afraid to be yourself and let your personality shine through.
Promote your Reels: Promote your Reels on your Instagram feed, stories, and other social media platforms to increase visibility and reach a wider audience.
Why are they so effective?

Short form video content is king and Instagram is fiercely competing with TikTok for engagement. Instagram 'Posts' will reach your followers, Instagram 'Reels' are able to reach all users across the platform!
Why Create Instagram Reels?

More visibility: Instagram Reels are showcased on the Explore page, which means that they have the potential to reach a larger audience than regular posts. This is because Instagram's algorithm prioritises Reels in users feeds, giving them more visibility.
More engagement: Because Reels are often shorter and more visually engaging than regular posts, they may be more likely to capture viewers attention and encourage them to engage with your content through likes, comments, and shares.
Creative opportunities: Reels provide a platform for more creative expression, allowing you to experiment with music, effects, and editing techniques that might not be possible with regular posts.
Trending content: Reels are a popular form of content on Instagram, so using them may help you stay relevant and up-to-date with current trends and user preferences.
PRO

TECHNIQUE:
1. FAVORITE REELS TO AUDIO PAGES.
1. Accessing the Audio page: Type your track name in the Search bar, then tap the track you want to pin reels for. Once you tap the track name, you'll be able to see reels created using your song on the Audio page.
2. Selecting Reels to pin: You can pin your favourite Reels from either the Audio page for your track or directly from the reel. Tap on the reel, then tap "…" while viewing to pin to the Audio page. You can select up to 3 of your favourite reels to showcase at the top of the Audio page! If you're using iOS, you can also press and hold on a reel on the audio page to pin/unpin. Note: You can't pin your own reel at this time.
3. Managing Pinned reels: Changed your mind and want to pin a different reel to the Audio page? You can unpin a reel by tapping "…" while viewing, then selecting "Unpin from audio page."
📌 Pinned creators & fans will get a notification, celebrating that they've been recognised by you as an "Artist Pick".
📌 In the Reels tab, creators/fans you've selected will have an "Artist Pick by @yourhandle" display under their username.
PRO

TECHNIQUE:
2. CREATE A TEMPLATE
Create a Reel using a 'Template' to make it easier for fans/followers to create using your song. You'll just need to create a Reel with three or more segments and the format of that Reel can be copied over to fans' cameras, allowing them to upload or film content using the same template as your Reel. 
ANDROID / IPHONE
Note that templates are only available for reels that include music and at least three clips. 
To use a template
Tap (Android) or (iPhone) on the bottom right of the reel that you want to use as a template.
Tap Use as template.
Tap Add media at the bottom and select the photos or videos in the order that you want them to appear in your reel. You can also tap each clip, tap Replace media and select the photo or video that you want to replace it with.
Tap Done or Next in the bottom right to preview and share your reel.
PRO

TECHNIQUE:
3. CREATE TRANSITIONS!
Creating transitions should be fun! No need to overthink it—pick up two of @aceking's go-to transitions.
Always connect your transitions in the middle of the motion.
Plan your transitions in advance and shoot a few takes for a seamless scene.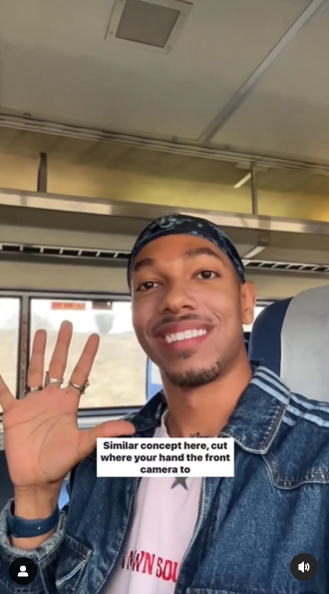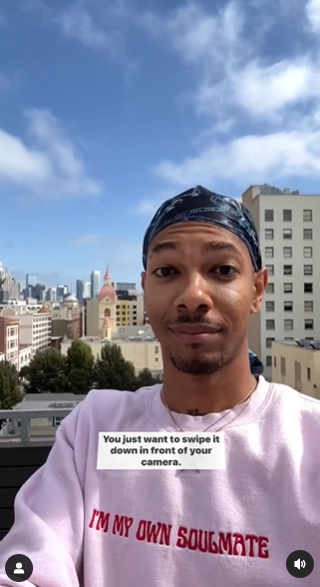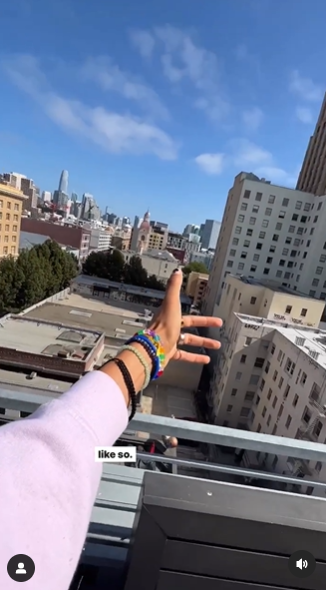 PRO

TECHNIQUE:
4. DUEL CAMERA
The dual mode feature lives in the toolbar inside the Stories and Reels Camera. Encourage your fans to capture content from your live shows or use it to capture fans from the stage!
HOW DOES IT WORK?
• Tap the (+) icon at the top to create.
• Select Reel or Story.
• On the vertical menu bar, you'll see numerous icons, tap the down arrow to show more if needed.
• Select the camera icon labelled 'Dual'.
• Tap the shutter or large Reel icon in the centre to record your video.
Once you're done, you can continue to edit your video or add filters and effects before posting.
For even more immersive storytelling, the Dual capture mode in the Reels Camera lets you record with your phone's front and back-facing cameras at the same time. Now you can capture the moment in 360°, without any crazy camera tricks or difficult workarounds.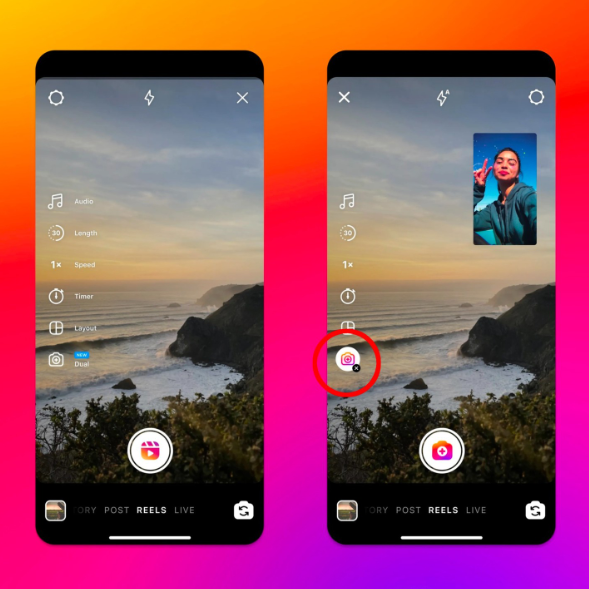 REMINDER: MUSIC IN FEED
Have you or your artists added music to photos in Instagram Feed yet? Music is a huge part of expression on Instagram, and users are able to add music to Feed photo posts in the same way you can with Reels and Stories. No matter which format works best to tell your story, you can now pick that perfect song to soundtrack your favourite photo moments on Instagram. 
Looking to up your social media game? Check out the links below for a deeper dive.